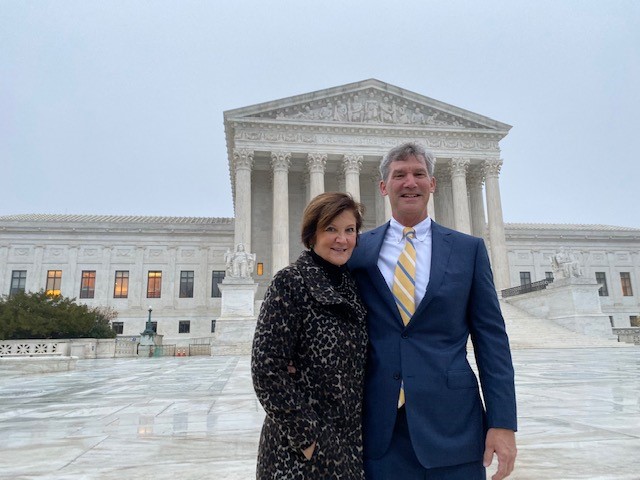 On December 9, 2019, UNC Law School Dean Martin H. Brinkley presented eight alumni of UNC Law to the U.S. Supreme Court for admission to practice before the Supreme Court.  I was excited to be among the eight.  Chief Justice John Roberts administered the oath.  My wife, Sally, accompanied me on the trip.
After the eight of us were sworn in, we remained in the courtroom and heard arguments in two cases – an immigration case and a patent case.  Throughout the course of both arguments, the justices (except Justice Clarence Thomas) took turns peppering the litigators with questions.  Their probing questions showed a genuine desire to reach a just decision.  To see the Supreme Court in action made me proud to be an attorney.
As we ate lunch at the Supreme Court after the morning session, a birthday party for retired Supreme Court Justice Anthony Kennedy was in progress across the hall.  The birthday room happened to have its doors open, which enabled us to see the justices in a relaxed, celebratory setting.
The UNC group stayed at the Hay-Adams Hotel, which is across the street from St. John's Church and close to the White House.  The night before our visit to the Supreme Court, we took a bus from the hotel to the Chevy Chase Club for dinner.
Our hosts at the Chevy Chase Club were UNC Law alumnus Mary Boney Denison (Class of '81) and her husband, Jack Clark.  Mary is the sister of Raleigh attorney Emmett Boney Haywood (UNC Law Class of '82, my classmate).  Another Raleigh attorney, Alice Stubbs, was one of the UNC Law alumni on the trip.  Spending time with Alice and her son, Buzzy Barrow, was an extra treat for Sally and me.
The hospitality of Dean Brinkley and the other UNC Law staff members who accompanied us on the trip, Deidre Gordon, Kelly Mann, and Carrie Clifford, made the trip one that we will cherish forever.