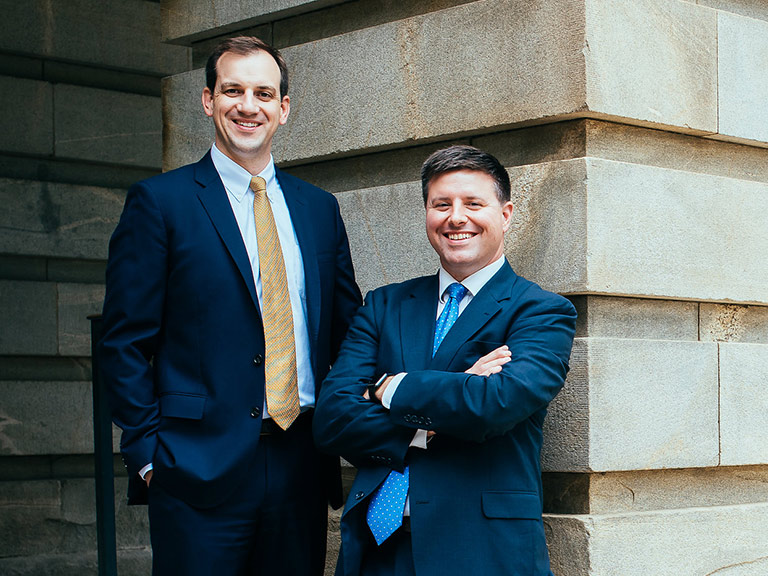 About Us
Jeff and Jason hit it off on the first day of law school at UNC-Chapel Hill.  Before long, the two were making jokes about starting a firm upon graduation.  In 2009, that dream became a reality as the predecessor to Miller Monroe & Plyler was born.  Most recently, William Plyler, Paul Flick, and John Holton brought their decades of combined litigation experience to the team, strengthening the firm's foundation and solidifying its commitment to Raleigh for many years to come.
About the Firm
Miller Monroe & Plyler is a boutique litigation firm located in Raleigh, North Carolina.  We represent a wide range of clients – from public companies to local businesses and individuals – in a variety of civil disputes.
Our commercial litigation team has the right combination of business and legal experience to guide you through a complex and an often daunting litigation process.  We work creatively to find solutions to complicated legal challenges, and when it matters most, we are willing to dig in and fight for our clients.  Our attorneys have experience representing clients in the construction, financial services, information technology, health care, manufacturing, education, and real estate industries.  Because we have experience navigating complex business issues, marketing strategies, and management challenges, the attorneys at Miller Monroe & Plyler can offer legal advice in the context of your business' particular needs.
Our personal injury and products liability litigators have extensive in-court litigation experience and will not shy away from a fight.  When you or someone you love is permanently or seriously injured, it is critical to hire an experienced attorney who can guide you through the claims process and file a lawsuit if necessary.  Having a knowledgeable, aggressive advocate in your corner can make all the difference in a case.
High quality representation.  Competitive fees.  Unwavering honesty with our clients, the court, and our opposition.  Community engagement.  Attorney accessibility.  These are the core tenets of Miller Monroe & Plyler.