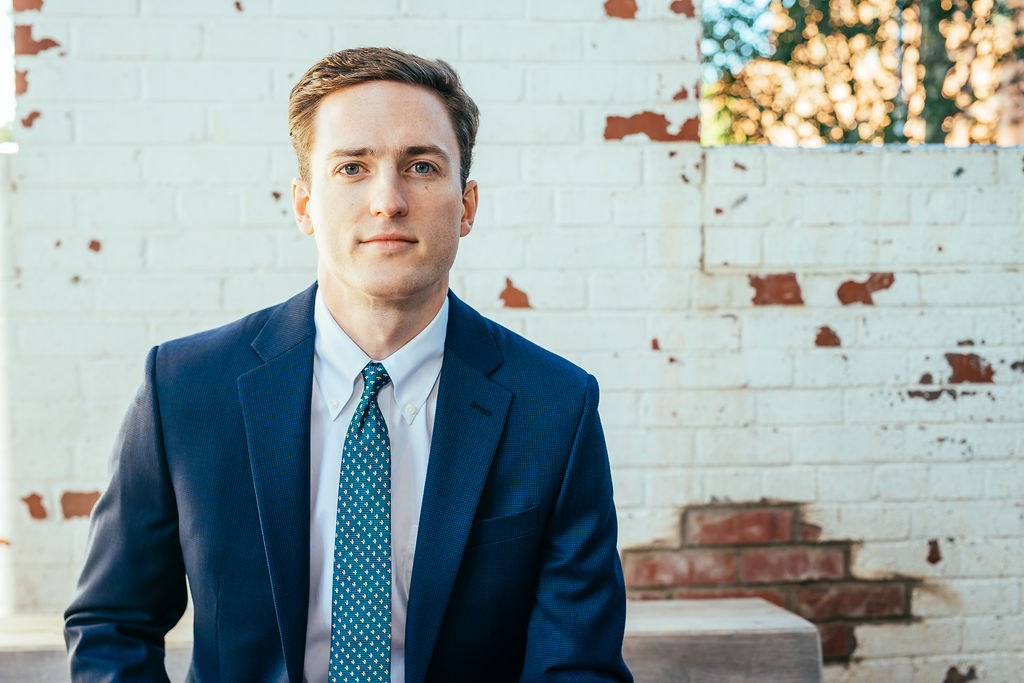 It wouldn't be a stretch to say that being a lawyer was in Rob Rader's blood.
"I was one of those kids who knew what I wanted to do from a very young age," he says. "I always knew it would be law school."
This isn't a surprise, given that Rob is the son of two prominent Raleigh attorneys: Chief District Court Judge Robert Rader and Megg Rader, a former nonprofit executive director and a fixture in the local community. Although his mother never practiced law, Rob recalls being inspired at a young age by her passion for service. And as for his father, Rob cites his leadership in the community as a catalyst for his own professional development.
"Growing up and seeing how he carried himself, how people treated him, and how he interacted in the community made me realize that I wanted to follow the path he paved."
Raleigh Roots and the Road to MMP
Born and raised in Raleigh, Rob is an N.C. State graduate who ventured to Chapel Hill for law school before heading back to his hometown. Other than a stint in D.C. for an internship in the office of Representative David Price and a summer studying international law at the London School of Economics, Rob always intended to return to his roots. "I always knew I wanted to come back to Raleigh," he says, "to practice here, and to start building my career. I'm really excited to start getting involved." Landing at Miller Monroe and Plyler seemed a natural choice, given his prior experience working with partner William Plyler at another prominent Raleigh firm. "I worked with William for a few summers, and that was the first time I was exposed to what it takes to be an elite lawyer." Outside of his parents, Rob says, "William was a huge influence."
As a new attorney with MMP, Rob's focus spans the firm's three primary practice areas: business litigation, personal injury, and estate and fiduciary litigation. "I've been enjoying learning it all," he says. While he does not yet know which practice area will become his ultimate focus, Rob has always been certain that litigation is his professional calling.
"I never thought of being a lawyer without being in the courtroom," he says. "That's how I've always viewed the role of a lawyer: Making arguments, presenting cases…that is the part that inspires me."
Rob's law school career makes this abundantly evident. At UNC Law, Rob was a member of the Broun National Trial Team and the Julius L. Chambers Civil Rights Appellate Advocacy Team. As a member of a four-person team of Broun National Trial Team members, Rob brought home the first-place award at the 27th Annual SDDL National Mock Trial Competition. Rob shares that he intends to continue honing his advocacy skills as an attorney at MMP. "My first jury trial just wrapped up the week before Christmas.  It was a surreal experience, and I'm incredibly fortunate to have been able to be a part of one at such an early stage in my practice."
Leveraging Influence for Good
Aside from the thrill of the courtroom, Rob cites the service core of the legal profession as a tremendous motivator. "In law school, they don't teach you about client counseling. But in reality, people come to you with problems that consume their lives, and until you see them and interact with them, you never really understand your impact," he says. "It's pretty awesome knowing you are in a position to do a lot of good."
For Rob, MMP is clearly the place to learn firsthand the value of seeing, knowing, understanding, and resolving real client issues. "The partners here have a really good understanding that the number of hours you bill is secondary…It is about giving back to the community, valuing time with family and friends, and having a good work-life balance," he says. "They know that this is what having a successful practice is all about."